Weekly Sale – Lamb Knuckle Mega Sale – 20% off RRP
From:  Monday 25th March to 30th March
And at our shop: 1-3 Te Roto Drive, Paraparaumu Beach, Kapiti. 5032
What is so great about lamb knuckles for my dog?
Lamb knuckles are one of our most popular and natural products
They are a great combination with bone, marrow, tendons, skin and meat, so your dogs teeth and jaws get a really good work out!
Long lasting chew and with the added benefit of keeping your dogs teeth clean
Don't be fooled by its size, it's a fantastic chew and these little beauties are loved by dogs of all sizes
And they are from New Zealand.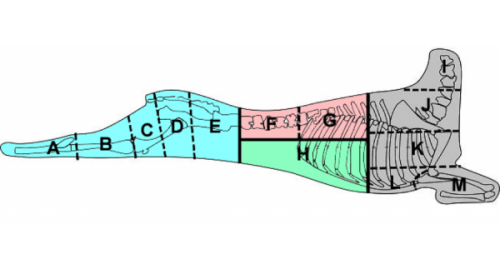 A diagram of lambs leg (shown in blue) is broken down into:
A – Shank
B – Leg, shank potion
C & D –  Leg, butt portion
E – Sirloin
The knuckle is between A and B
Did you know that lamb knuckles contain Glucosamine?
Glucosamine is a natural compound found in the building blocks of cartilage. When dogs suffer from arthritis or bone and joint pain, glucosamine can help to cushion the area between joints where cartilage is missing, thin, or damaged.  Because glucosamine is a natural supplement, it can also be found in foods your dog will love. There are some excellent sources of glucosamine found naturally in foods your dog can eat every day (see below for the list of foods). And what better way to offer a supplement to your dog than in their meals or treats.
What other foods contain Glucosamine
Chicken feet
Ox or pig tails
Knuckle bones
Shellfish shells (shrimp, prawns)
Green lipped muscles (These can be purchased in-store)
Bone broth
Tumeric
Ginger
Bluberries
A bit of trivia to impress your friends..